Filamentous Brown Seaweed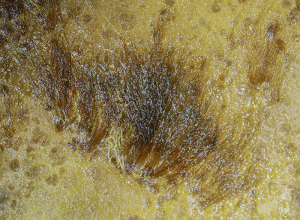 Observation - Filamentous Brown Seaweed - UK and Ireland. Description: Found at extreme low water on fronds of Laminaria digitata. Fasciculate, 6mm long. Basal cells 50-55 µm in diameter, fairly uniform in length. Upper cells more variable: 27-36 x 17-21 µm. Hair-like filaments 1.5-3.0 µm in diameter. We are in the realms
Found at extreme low water on fronds of Laminaria digitata.
Fasciculate, 6mm long. Basal cells 50-55 µm in diameter, fairly uniform in length. Upper cells more variable: 27-36 x 17-21 µm. Hair-like filaments 1.5-3.0 µm in diameter.
We are in the realms of Ectocarpus, Elastista, Pylaiella, etc., but my limited reference doesn't note a species with hair-like filaments (particularly profuse at the apices).
Main navigation