Leaf-cutter Bee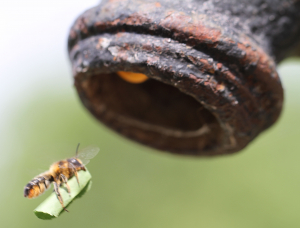 Observation - Leaf-cutter Bee. Description: This bee was caught in the act of completely blocking off (as it did 2 years ago) part of a small pond pump's system. Last time it took hours to remove the blocked pipe, and feed in a new one. It seems I am too late again ! It is an ethos here, that we
This bee was caught in the act of completely blocking off (as it did 2 years ago) part of a small pond pump's system. Last time it took hours to remove the blocked pipe, and feed in a new one. It seems I am too late again !
It is an ethos here, that we only share the garden!

I am uncertain as to the species ID of this particular bee.