IMG_0346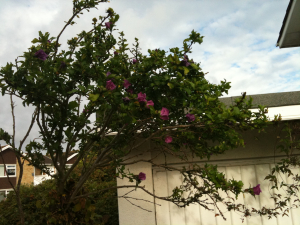 Observation - IMG_0346 - UK and Ireland. Description: It's not a very good or close up photo but I'm trying to identify this tree. The leaves are simple, small, lobed but not deeply, pale green, not glossy. They occur in clusters on a twig. silvery smooth bark (doesn't peel off like a silver birch or c
It's not a very good or close up photo but I'm trying to identify this tree.

The leaves are simple, small, lobed but not deeply, pale green, not glossy. They occur in clusters on a twig.

silvery smooth bark (doesn't peel off like a silver birch or cherry trees)

flowers - purple, papery, small. They appear in August.

It's deciduous.

Sorry the photo is a bit distant. any ideas?
Main navigation