P6240108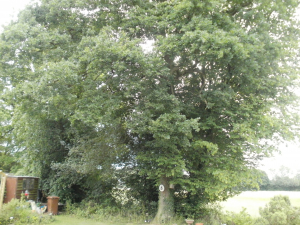 Observation - P6240108. Description: I call this tree; the birds' block of flats. We always have a blackbird's nest about half way up the tree, we usually have either blue tits or great tits in the bird-box, some years we have had greenfinches near the top of the tree but this year chaffin
I call this tree; "the birds' block of flats." We always have a blackbird's nest about half way up the tree, we usually have either blue tits or great tits in the bird-box, some years we have had greenfinches near the top of the tree but this year chaffinches are up there and, much to my delight, we have a pair of woodpigeons halfway up as well - I am very pleased about this as we are plagued by magpies who have had the blacbirds' complete brood more than once in the past few years. These pigeons are very protective of their nest and drive the magpies away regularly.
Not in the actual tree, but in various places in the scrubby patch below it, robins, wrens and dunnocks usually nest.
In the Autumn, grey squirrels and jays are very frequent visitors for the invariably huge crop of acorns.
Tiny caterpillars sometimes nearly denude the tree of its leaves in Spring, but it seems able to produce more leaves which are left alone. (Blue-tits appreciate the tiny caterpillars too!)
'Oak apples' are fairly regular, and I am trying to identify the various insects and bugs that live on and around this oak.