Unidentified weed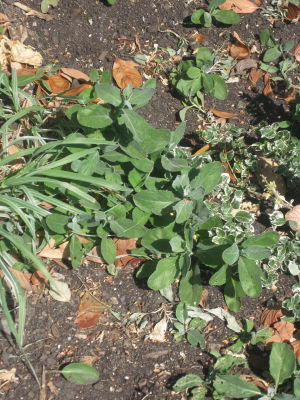 Observation - Unidentified weed. Description: Starts as grey-silver rosettes of leaves. Fairly fast growing. Tall flowering stems were under shrubs at edge of bed in park. Leaves on flowering stems are toothed but some have rounded ends and some are pointed. Height when flowering about 30-40 cm. So
Starts as grey-silver rosettes of leaves. Fairly fast growing.
Tall flowering stems were under shrubs at edge of bed in park.
Leaves on flowering stems are toothed but some have rounded ends and some are pointed. Height when flowering about 30-40 cm. Soil is poor, stoney clay I think, very hard to dig.
I'd like to know how it spreads!