Phyllocolpa carinifrons - Willow Sawfly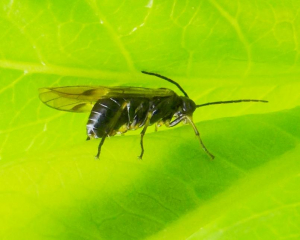 Observation - Phyllocolpa carinifrons - Willow Sawfly - UK and Ireland. Description: I have posted Phyllocolpa carinifrons before (see http://www.ispotnature.org/node/429163) but using an iterative process to draw out an ID and some interaction. I am grateful to Bob Homan who gave the first indication that this was a fly to remember. I h
I have posted Phyllocolpa carinifrons before (see http://www.ispotnature.org/node/429163) but using an iterative process to draw out an ID and some interaction. I am grateful to Bob Homan who gave the first indication that this was a fly to remember.
I have posted so many pictures here because I wish to store them for future interest (in the Cloud, as it were) - I have left file numbers for my own reference.
P.carinifrons is a sawfly - it is a rare European species that, at the moment, has one other UK (Scottish) record. The ID has been confirmed by some leading experts in the Sawfly and leaf miner world and, it has been suggested that the Orkney version, the one seen here, MIGHT be a new undescribed variety
Observation began in 2012 with turned leaf edges on a then unidentified willow, progressed through larvae extraction from the folds and nearly a hundred pictures of different flies visiting the particular tree in my garden. I identified the willow Salix pentandra and story unfolded. In 2013 there were no UK sightings and In 2014 I submitted the previous post.

At the time of writing this, the only useful ID information was for the larva"Distribution.Central and northern Europe.Food plant .Salix pentandra; leaf fold: One side of the leaf-blade folded downwards. Larva with dark head, thoracic legs with black markings and two apical abdominal segments with several black spots."♦♦..
If one searches for P.carinifrons in Google Images, then a few pinned insects are seen, typically here http://www.boldsystems.org/index.php/Taxbrowser_Taxonpage?taxid=153646 - these seem to confirm the sightings I show.
I have posted too many similar shots of the Sawfly here but they are interspersed with pictures of the leaves and larvae. I do not expect many agreements.

Last edit 3 Dec 2015See comments
♦♦>>Karel Beneš 01/2015<<
Main navigation