Liverwort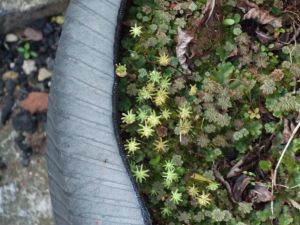 Observation - Liverwort. Description: This is a curious import to my garden in lime free compost. It starts off with leaves with little rings on them and then buds rise up and later burst out into star shaped flowering bodies. The broad leaves are domesticated blueberry and there is no need
This is a curious import to my garden in lime free compost.
It starts off with leaves with little rings on them and then buds rise up and later burst out into star shaped flowering bodies. The broad leaves are domesticated blueberry and there is no need to identify them.
The first picture shows the final two stages and the second the leaves with the rings.