Agastache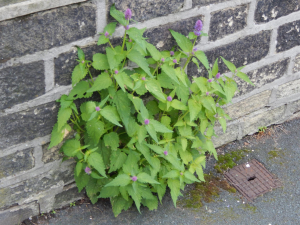 Observation - Agastache - UK and Ireland. Description: This attractive plant sprouted up between my front wall and the pavement a few years ago and despite frequent council sprayings it continues to appear each year. The leaves smell of mint. The inflorescences are terminal and in the uppermost leaf axils b
This attractive plant sprouted up between my front wall and the pavement a few years ago and despite frequent council sprayings it continues to appear each year.
The leaves smell of mint.
The inflorescences are terminal and in the uppermost leaf axils but never in any of the lower axils.
The flowers are purple and the calyx tube is pink, becoming green right at the tip.
Seems very distinctive but I quite find anything quite like it.
Main navigation