Broad-leaved Pondweed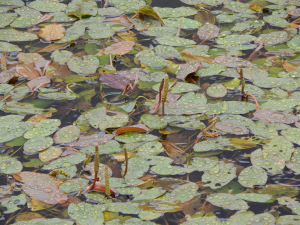 Observation - Broad-leaved Pondweed - UK and Ireland. Description: I have walked most of the length of the local canal and this is the first time I have seen P. natans. It spreads about 20m in each direction from the point that water flushes into the canal from an industrial unit. I assume something about this is benefi
I have walked most of the length of the local canal and this is the first time I have seen P. natans.
It spreads about 20m in each direction from the point that water flushes into the canal from an industrial unit. I assume something about this is beneficial to its growth.
Floating leaves on long stems with a 90 degree angle between stem and leaf.
When I took one out to photograph I noticed a clear jelly containing eggs and what looked to me like leeches moving around outside of the jelly.
Main navigation