Strange Orange Dangly Things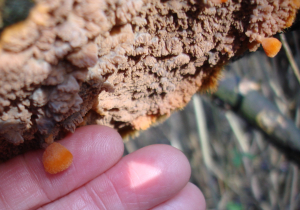 Observation - Strange Orange Dangly Things - UK and Ireland. Description: Delicate Orange flower dangling from a dead branch. I posted this photograph on Wild About Britain and got the following response: This is Phlebia radiata, it typically occurs on rotten Birch Stumps. The orange dangly bits are not out of the ordinary
Delicate Orange "flower" dangling from a dead branch.
I posted this photograph on Wild About Britain and got the following response:
"This is Phlebia radiata, it typically occurs on rotten Birch Stumps. The orange dangly bits are not out of the ordinary, but I do not know what purpose they serve."
Main navigation