American Pondweed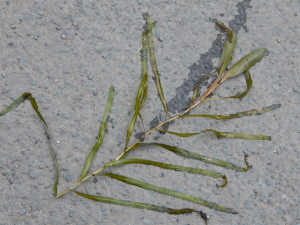 Observation - American Pondweed - UK and Ireland. Description: This is a follow up to my recent observation http://www.ispotnature.org/node/708370 I contacted David Earl and following his suggestion I went back to take a closer look. Hopefully these images show the features more clearly. Floating leaves quite para
This is a follow up to my recent observation http://www.ispotnature.org/node/708370
I contacted David Earl and following his suggestion I went back to take a closer look.
Hopefully these images show the features more clearly.
Floating leaves quite parallel sided with rounded tip and tapering into petiole. 70mm long x 17mm wide
Submerged leaves long, parallel sided, tip is round pointed and base tapers to width of stem. Up to 200mm long and about 8mm wide.
Submerged leaves appear to have a light stripe down the centre, this is due to the rows of lacunae along either side of the midrib.
Main navigation