Northern Dock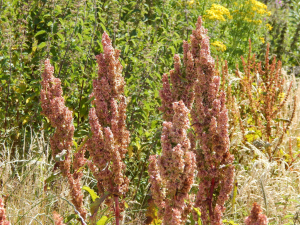 Observation - Northern Dock - UK and Ireland. Description: I went to track down historic records of Northern Dock and found it to be predominant in this area. The panicles are very dense. Although branched they appear as one mass. The leaves broad but long with an undulating edge. The valves are large and roun
I went to track down historic records of Northern Dock and found it to be predominant in this area.
The panicles are very dense. Although branched they appear as one mass.
The leaves broad but long with an undulating edge.
The valves are large and rounded with no wart.
The last two images show R. longifolius next to R. obtusifolius for comparison.
Main navigation