Cellar Cup fungus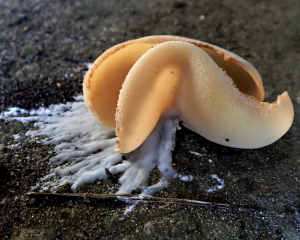 Observation - Cellar Cup fungus - UK and Ireland. Description: Nature has a way of astounding me sometimes. Growing on the blown-in debris on a concrete floor, the
Nature has a way of astounding me sometimes. Growing on the blown-in debris on a concrete floor, these cup fungi were only just in the light.
yet they were healthy looking and thriving on the meagre nutrients.
I think these may be paler than the norm and I know they are difficult to separate
Edit - added >>MY ORKNEY GARDEN<< tag
.
IGNORE the spurious isolation tag. It is there to TRAP those who inadvertently use it.
Main navigation