Fat Ground-beetle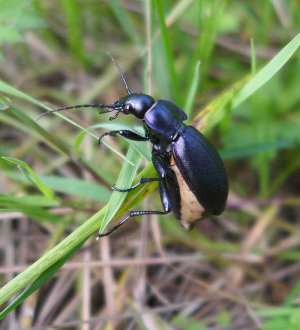 Observation - Fat Ground-beetle - UK and Ireland. Description: I found this 3cm long ground-beetle lumbering slowly over grass in a rough field. Firstly am I right in thinking that this is Carabus problematicus? The hind angle of the pronotum seems more raised than C. violaceus should be. Secondly, what would c
I found this 3cm long ground-beetle lumbering slowly over grass in a rough field.

Firstly am I right in thinking that this is Carabus problematicus? The hind angle of the pronotum seems more raised than C. violaceus should be.
Secondly, what would cause the abdomen casing to split open like that. Is this a normal thing for pregnant female beetles or has this specimen got an internal parasite?
Main navigation