Woodland floor fungus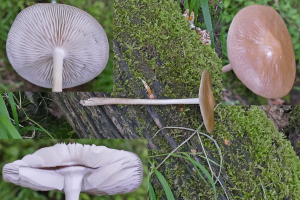 Observation - Woodland floor fungus - UK and Ireland. Description: The changeable weather seems to have brought out quite a few fungi. There were some big boletes, but they were already mouldy, soggy, and well slug-chewed. These were growing on the ground amid mainly Wych Elm and Maple. Height 15-20cm, caps about 8cm ma
The changeable weather seems to have brought out quite a few fungi. There were some big boletes, but they were already mouldy, soggy, and well slug-chewed.
These were growing on the ground amid mainly Wych Elm and Maple. Height 15-20cm, caps about 8cm max. Slight mushroom odour, no sign of a veil. GIlls and stem white, although some faint grey-beige mottling was noted at the base of the stem.
Possibly a Tawny Grisette?
Main navigation