Weeping Bolete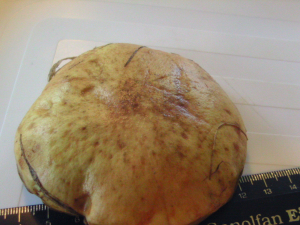 Observation - Weeping Bolete - UK and Ireland. Description: On slightly acid soil in 'ring' surrounding Scot's Pine Pinus sylvestris. Caps to 9cm light yellow/tan when fresh (photos taken next day after being in fridge!) slightly viscid when wet. Pores fairly round less than 1mm lighter yellow when fresh no colo
On slightly acid soil in 'ring' surrounding Scot's Pine Pinus sylvestris.
Caps to 9cm light yellow/tan when fresh (photos taken next day after being in fridge!) slightly viscid when wet.
Pores fairly round less than 1mm lighter yellow when fresh no colour change on bruising. Pore tubes stayed intact when torn dirty yellow to 6mm.
Stem 5.5cm x 15mm no ring with brown dots to base.
Section yellow flesh to 15mm, stem yellow no staining.
Smell very faintly mushroom.
Main navigation