unidentified butterfly or moth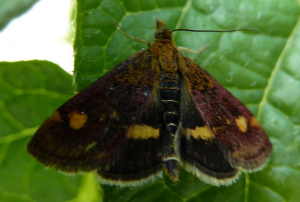 Observation - unidentified butterfly or moth - UK and Ireland. Description: Unidentified butterfly or moth seen early morning, about 7:30am, on my potatoes. Body about 8 - 10 mm long with 12 - 15 mm wingspan. Could not see underside. Flew fairly slowly in a slightly erratic manner. Never seen this species before. Any ideas? Sor
Unidentified butterfly or moth seen early morning, about 7:30am, on my potatoes. Body about 8 - 10 mm long with 12 - 15 mm wingspan. Could not see underside. Flew fairly slowly in a slightly erratic manner.
Never seen this species before. Any ideas?
Sorry photo is not ideal but it was the best I could get under the circumstances.
Main navigation