Sawfly (Abia sp.) pupa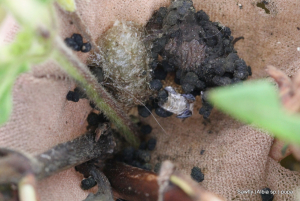 Observation - Sawfly (Abia sp.) pupa - UK and Ireland. Description: A sawfly, identified as most likely to be Abia lonicerae, laid eggs on our honeysuckle in April (See previous post http://www.ispot.org.uk/node/124483). We 'raised' them in an Ikea laundry basket (large alternative to butterfly net) when the stems got br
A sawfly, identified as most likely to be Abia lonicerae, laid eggs on our honeysuckle in April (See previous post http://www.ispot.org.uk/node/124483). We 'raised' them in an Ikea laundry basket (large alternative to butterfly net) when the stems got broken.

(The stems needed to be kept in water so to stop the larvae drowning when they hatched we covered a jam jar with a popsock, making very small holes to put the stems through.)

One of them started spinning a cocoon at the weekend and this picture was taken 3 days later. It is about 8mm by 20mm and similar in colour to the honeysuckle stem. It attached itself to the popsock and the frass but not sure where it would normally pupate.
Main navigation