DSCF2387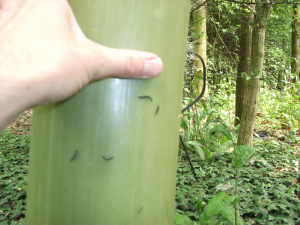 Observation - DSCF2387 - UK and Ireland. Description: Sorry about my photos! I saw them in a tree, every branch and trunk covered in 'webs' from ground level to the top. It was dripping with hundreds - maybe thousands - of caterpillars, some of which were working their way up & down the branches, others sus
Sorry about my photos!
I saw them in a tree, every branch and trunk covered in 'webs' from ground level to the top. It was dripping with hundreds - maybe thousands - of caterpillars, some of which were working their way up & down the branches, others suspended on threads.
They were also on forest floor and adjacent hawthorn, oak, nettles, etc.
Description: they were skinny ones, 10-15mm long.
Colour: black & brown striped. Stripes equal width, less than 1 mm, across their bodies rather than along the length of the body.
The tree: about 15' high, but unable to identify species as the caterpillars have eaten every leaf.
The web: white fibres, attached close to branches or hanging in single threads or bundles (but not in a 'spirograph' pattern likea traditinal spider's web).
Main navigation