Wall Speedwell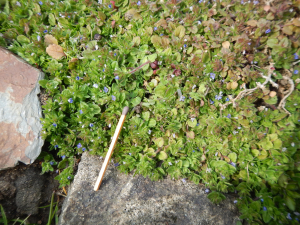 Observation - Wall Speedwell - UK and Ireland. Description: A really dense mat of hairy leaves and stems with tiny lilac/blue flowers. The flowers seem to be much smaller than expected only 2mm across (compare with standard match head) All my books refer to 3-4mm. Although the leaves are ivy shaped they are rath
A really dense mat of hairy leaves and stems with tiny lilac/blue flowers.
The flowers seem to be much smaller than expected only 2mm across (compare with standard match head) All my books refer to 3-4mm.
Although the leaves are ivy shaped they are rather blunt ended.
Dense mat seems unusual
I am assuming this to be V. hederifolia unless there is one I am not familiar with, possibly subs. lucorum?
Main navigation