Callicera rufa (?) in Shropshire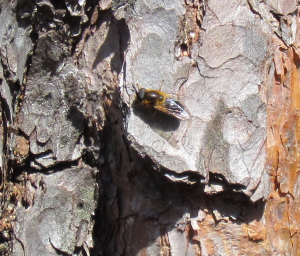 Observation - Callicera rufa (?) in Shropshire - UK and Ireland. Description: Whilst with a walking group I spotted and photographed what I thought was a bee (Photo 1) on the trunk of a Scots Pine in the middle of a small clearing. It was not until later, looking at the photograph, that I realised it was a hoverfly and, from the sh
Whilst with a walking group I spotted and photographed what I thought was a bee (Photo 1) on the trunk of a Scots Pine in the middle of a small clearing. It was not until later, looking at the photograph, that I realised it was a hoverfly and, from the shape of the anntennae, it was a Callicera. I returned to the site a week later and a similar fly was still in residence. I netted this fly and attempted to identify it. Unforftunately I was unable to get far as, following the key in Stubbs and Falk, it had mainly dark femora (ruling out C. rufa) and a short 2nd antennal segment ruling out the other two known British species! At this point I passed it on to our local recorder and expert who later identified it as probably C. rufa. (He is arranging for verification.) Unless others on iSpot know differently, this fly is only recorded in Scotland, so what is it doing in Shropshire?

I returned to the site a few days ago with the recorder and we found at least three males using the same tree and one nearby. Another colleague has since visited the site and found a female.

The recorder looked at similar habitat on a nearby hill a few miles away and also found this species of hoverfly - also with mainly dark femora.

So it looks as though, subject to verification, this Scottish hoverfly (in a dark femora variation) has found a niche in Shropshire.

Photographs 2 & 3 are on the specimen awaiting verification; photograph 4 is of one of the three seen on the later visit.
Main navigation