i.d.please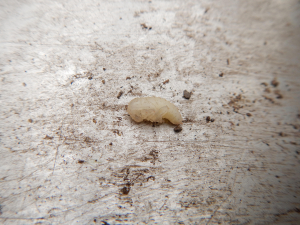 Observation - i.d.please - UK and Ireland. Description: A white larva found in a chamber when we turned out soil from a flower pot. It was just under 1cm long, segmented body that twisted and turned, what look like immature legs and short spines, two on the tail, four across the back of the head but others on
A white larva found in a chamber when we turned out soil from a flower pot.
It was just under 1cm long, segmented body that twisted and turned, what look like immature legs and short spines, two on the tail, four across the back of the head but others on its body.
Pic 1 head to the left, tucked under.
Pic 2 head to the right,
Pics 3 & 4 underside.
Can anyone identify it from these photos please.
Main navigation