Water Shrew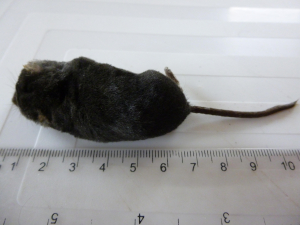 Observation - Water Shrew - UK and Ireland. Description: Dead on bridleway along side of drainage ditch with iron oxides leachate from past local coal mining. Damp scrub woodland. Small mammal with pronounced snout. Snout to base of tail 7cm, tail 4.5cm. Upper black velvety fur (like a mole). Under light gre
Dead on bridleway along side of drainage ditch with iron oxides leachate from past local coal mining. Damp scrub woodland.
Small mammal with pronounced snout. Snout to base of tail 7cm, tail 4.5cm.
Upper black velvety fur (like a mole). Under light grey fur with rump black.
Tail dark brown with hairs.
Main navigation