invasive pond plants not planted by us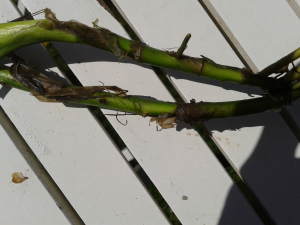 Observation - invasive pond plants not planted by us - UK and Ireland. Description: 1st plant like bamboo, jointed stems, breaks off when you try and pull it out. 2nd plant leaves like celery, fairly easy to pull out., but mixed with other pond plants, keeps coming back. We have tadpoles and frogs in our tiny pond. Is it ok to have a
Sorry didn't post pics properly before
. 1st plant like bamboo, jointed stems, breaks off when you try and pull it out.
2nd plant leaves like celery, fairly easy to pull out., but mixed with other pond plants, keeps coming back.
We have tadpoles and frogs in our tiny pond. Is it ok to have a clean out now or wait until the tadpoles have turned into frogs?
Main navigation