Swallow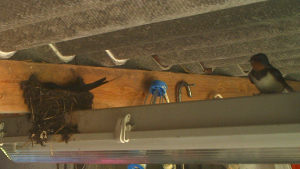 Observation - Swallow - UK and Ireland. Description: Last week we noticed swallows had arrived in our area, then yesterday two flew into our garage and started refurbishing a nest used last year. Last year there were five chicks safely reared. I have a camera on the nest and will post update photographs
Last week we noticed swallows had arrived in our area, then yesterday two flew into our garage and started refurbishing a nest used last year.
Last year there were five chicks safely reared.
I have a camera on the nest and will post update photographs on this entry when there are , hopefully, eggs and then chicks.

Would it be the same pair returning??
Main navigation