Matted growth on a tree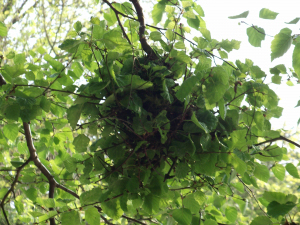 Observation - Matted growth on a tree - UK and Ireland. Description: This is not mistletoe or a birds nest as it has leaves the same as the tree. It is on silver birch and hangs like a pendant from a small branch that does not continue to grow normally. The remainder of the tree looks normal. There are several clusters
This is not mistletoe or a birds nest as it has leaves the same as the tree.
It is on silver birch and hangs like a pendant from a small branch that does not continue to grow normally.
The remainder of the tree looks normal.
There are several clusters on each of several silver birch trees close to each other.
Main navigation