Cuckoo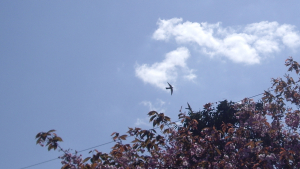 Observation - Cuckoo - UK and Ireland. Description: We have had two Cuckoo's flying around together all day. We first notice them about 10 am and it is now 6 pm and they are still flying. They seem to be chasing each other, tumbling down then continuing the chase. I have never seen this behaviour befor
We have had two Cuckoo's flying around together all day. We first notice them about 10 am and it is now 6 pm and they are still flying. They seem to be chasing each other, tumbling down then continuing the chase.

I have never seen this behaviour before,in fact I do not think I have ever seen two Cuckoos together.
Are they a mating couple or maybe two fighting for territory???
Main navigation