PLANT 5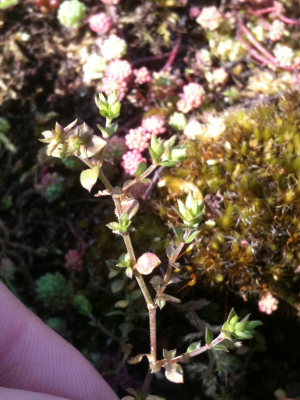 Observation - PLANT 5 - UK and Ireland. Description: Plant with hair stem and leaves. Leaves are opposite and very small (aproximately 0.5cm). This plant resembles Three-nerved Sandwort but with smaller, poited leaves. This plant is mostely surrounded by stonecrops, mosses and invasive plants. The ento
Plant with hair stem and leaves. Leaves are opposite and very small (aproximately 0.5cm). This plant resembles Three-nerved Sandwort but with smaller, poited leaves.

This plant is mostely surrounded by stonecrops, mosses and invasive plants. The entourage suggests the soil is acidic. It is exposed to drought, cold weather, rough winds, and sunlight as it is not shaded and is unprotected from environmental conditions.

It is located on a rooftop on a hill near the English SW coast.
Main navigation