FUNGI 2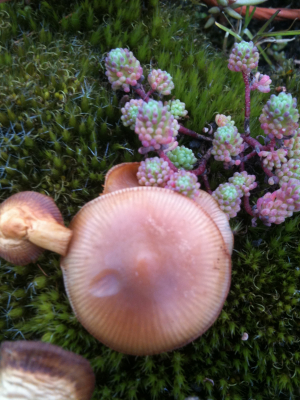 Observation - FUNGI 2 - UK and Ireland. Description: Similar to FUNGI 1 except in bell shape, this fungihas more apparent fibers at the edge of the cap with a dark brown and pale brown ring. The reason it this fungi is does not possibly not Galerina tibiicystis is because it does not appear in the GBIF
Similar to FUNGI 1 except in bell shape, this fungihas more apparent fibers at the edge of the cap with a dark brown and pale brown ring.

The reason it this fungi is does not possibly not Galerina tibiicystis is because it does not appear in the GBIF records in the UK.

This fungi is mostely surrounded by stonecrops, mosses and invasive plants. The entourage suggests the soil is acidic. It is exposed to drought, cold weather, rough winds, and sunlight as it is not shaded and is unprotected from environmental conditions.

It is located on a rooftop on a hill near the English SW coast.
Main navigation