Beetle Larvae requiring ID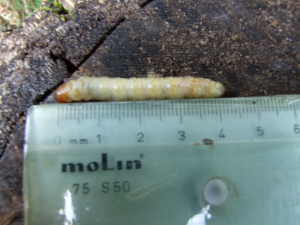 Observation - Beetle Larvae requiring ID - UK and Ireland. Description: Found under a dead and rotting birch log. The larvae was under the soil but the head was protruding from a narrow burrow, the same diameter as the body. Approximately 42mm long, white, with very tiny hairs and tiny dark dots down the side. Orange head a
Found under a dead and rotting birch log.
The larvae was under the soil but the head was protruding from a narrow burrow, the same diameter as the body.
Approximately 42mm long, white, with very tiny hairs and tiny dark dots down the side. Orange head and 6 orange forelegs.
Very active whilst being measured and photographed.
Main navigation