Viburnum Leaf Beetle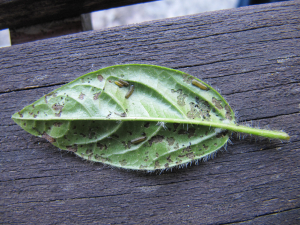 Observation - Viburnum Leaf Beetle - UK and Ireland. Description: Can anyone help with a plant ID and a pest ID and what to do about it. The grubs feed on the underside of the new growth leaving lots of holes and because it is evergreen they stay on the plant making it look a bit battered. I am prersuming that the d
Can anyone help with a plant ID and a pest ID and what to do about it. The grubs feed on the underside of the new growth leaving lots of holes and because it is evergreen they stay on the plant making it look a bit battered.

I am prersuming that the darker grubs are about to pupate. On the first leaf photo (near the midrib) there is what looks like a case from which something has emerged.

On the second leaf there are some small pale insects which I think are leaf hoppers these emerged from some of the white hairs on the midrib while I was observing.

The leaves are in plastic bags to try to find out what the grubs turn into.

These grubs are only affecting this plant/species, other plants nearby are free of it.
Main navigation