whiteFlower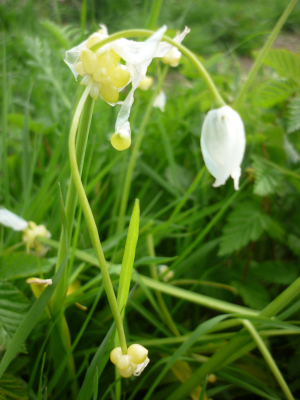 Observation - whiteFlower - UK and Ireland. Description: About 18/20cm high. Single small white bell flowers with clusters of small yellow balls around flower and stem (seeds?) Stems appeared to be growing at odd angles Leaves from base,looked like bulb/orchid leaves, sorry not in picture Found in Scotland
About 18/20cm high.
Single small white bell flowers with clusters of small yellow balls around flower and stem (seeds?)
Stems appeared to be growing at odd angles
Leaves from base,looked like bulb/orchid leaves, sorry not in picture
Found in Scotland, near Newburgh alongside the River Tay on a river bank on path between reeds and arable land. A dog walked over it just before I took photo so the unusual stem structure has been lost.
The yellow seed balls? will probably identify it but I can't find anything similar.
Main navigation