Small tortoiseshell butterfly [hibernating in house] {1}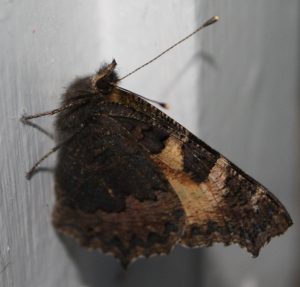 Observation - Small tortoiseshell butterfly [hibernating in house] {1} - UK and Ireland. Description: This single specimen has been in my house for about 6-8 weeks. It has moved to about 4 or five different locations, mostly in poor light. Now it is in the hallway in greater illumination. I wonder whether the temperature changes inside has any bearing
This single specimen has been in my house for about 6-8 weeks. It has moved to about 4 or five different locations, mostly in poor light. Now it is in the hallway in greater illumination.

I wonder whether the temperature changes inside has any bearing on the movement.

There is nothing online about the physiological state the butterfly is in while hibernating.
Main navigation