Ransoms rust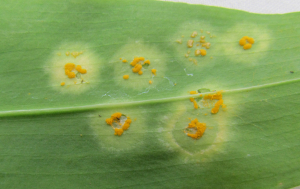 Observation - Ransoms rust - UK and Ireland. Description: A lot of the Ransoms in the vegetation of a woodland by a stream are infected with this orange rust on the underside of the leaves which can be seen as a discolouration on the upper leaf surface. Looking at The British Rust Fungi (which can be downlo
A lot of the Ransoms in the vegetation of a woodland by a stream are infected with this orange rust on the underside of the leaves which can be seen as a discolouration on the upper leaf surface.

Looking at "The British Rust Fungi" (which can be downloaded from
http://www.biodiversitylibrary.org/item/21976#7
there are four rusts that affect Ransoms:
Puccinia winteriana;
Melampsora allii-fragilis;
M. allii-salicis-albae and
M. allii-populina.
Whilst not understanding a lot of the text only one entry mentions the torn epidermis as shown in the photograph and that is M. allii-fragilis (page 345).
Main navigation