Stomach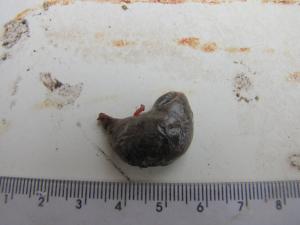 Observation - Stomach - UK and Ireland. Description: This cleanly cut stomach was found on our back garden lawn as if it had dropped from the sky. On the second photo one can see some white fur/hairs. The last photo shows the stomach contents. They looked like vegetable matter, well ground [?]. And did no
This cleanly cut stomach was found on our back garden lawn as if it had dropped from the sky.
On the second photo one can see some white fur/hairs.
The last photo shows the stomach contents. They looked like vegetable matter, well ground [?]. And did not have an offensive smell.
I would like to know not just who the victim was, but its predator as well. Any guesses?
Main navigation