Invertebrate larvae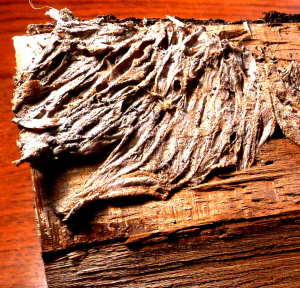 Observation - Invertebrate larvae - UK and Ireland. Description: We think this is a collection of larvae. It was found tightly packed into a crevice in a log and came to light when the log was split for firewood. The mass is pale cream coloured and the individual bodies in it are spindle shaped. We thought that the mo
We think this is a collection of larvae. It was found tightly packed into a crevice in a log and came to light when the log was split for firewood. The mass is pale cream coloured and the individual bodies in it are spindle shaped.
We thought that the most striking thing about this structure was its tensile strength. The wrapping has the fibrous texture of ground cover membrane, is slightly sticky and adheres together so strongly that it is very difficult to remove even a single section of the whole.
We would very much like to know what it is and would appreciate any help in identification.
Main navigation