Underwater Critter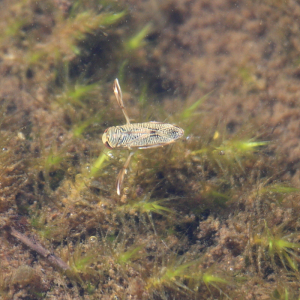 Observation - Underwater Critter - UK and Ireland. Description: Scooting around amongst the myriad Caddisfly larvae, I spotted a few of these beautifully marked submerged bugs (Chinery's phrase). It has a wonderful set of oars but it's no Water Boatman, methinks. Doesn't seem to be upside down, for a start. I'd s
Scooting around amongst the myriad Caddisfly larvae, I spotted a few of these beautifully marked "submerged bugs" (Chinery's phrase). It has a wonderful set of oars but it's no Water Boatman, methinks. Doesn't seem to be upside down, for a start.

I'd say these guys were <1cm. Chinery has Sigara striata which I think is out of bounds but he says "there are several similar species in Britain". It certainly looks well striated.

Anyone know these characters?
Main navigation