P3300134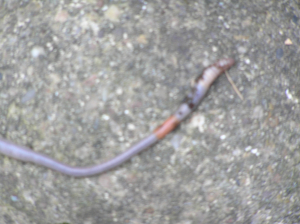 Observation - P3300134 - UK and Ireland. Description: (sorry the pictures are fuzzy, not much battery for flash at the time. the third picture should show the tail end of the worm). this was in a tiny city centre garden which I have always thought was short of worms, except for the brandlings which make my c
(sorry the pictures are fuzzy, not much battery for flash at the time. the third picture should show the tail end of the worm). this was in a tiny city centre garden which I have always thought was short of worms, except for the brandlings which make my compost. I did try to import some worms from a friend's garden some years ago, but had not seen any (don't do much digging, plants packed in now and growing well!) then after a long dry spell, a shower, and later on the paving, this worm appeared after breakfast! It was the bright salmon pink saddle/belt which drew my attention, such a contrast with the lavender body. I did not recognise it as any of the worms I had seen in the past,but maybe it was the surprise.
Is this a worm that I might have imported myself? Is it in its right habitat? the soil was city dust (near the Roman wall of York) and only now is there much humus built up.
I have the Opal field guide from the web, but could not get very far with it. Scale of worm - it is crawling into leaves of Vinca minor.
Main navigation