Small Bracket Fungi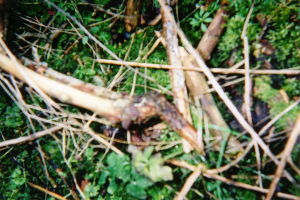 Observation - Small Bracket Fungi - UK and Ireland. Description: One square shaped, 5mm per side. Other looked same overall size but bell shaped. Rich brown, Live although on fallen small branch. It had been very wet the day before. The other 2 photos are the types of brcaket I am more used to seeing. (they were foun
One square shaped, 5mm per side. Other looked same overall size but bell shaped.
Rich brown, Live although on fallen small branch. It had been very wet the day before.
The other 2 photos are the types of brcaket I am more used to seeing. (they were found in January in woodland when many trees had fallen)
Squamous ?
Main navigation