Unidentified Fungus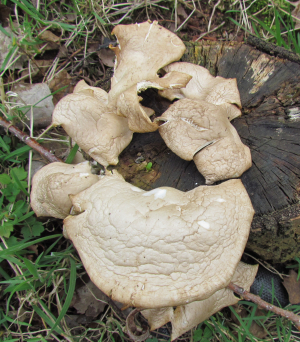 Observation - Unidentified Fungus - UK and Ireland. Description: Two groups of fungus within a metre of each other one set attached to the stump of a tree the other to, possibly, its roots. Sorry, could not identify the stump. The largest fungus was about 10cm across. The stipe was either very short or within the g
Two groups of fungus within a metre of each other one set attached to the stump of a tree the other to, possibly, its roots. Sorry, could not identify the stump.

The largest fungus was about 10cm across. The stipe was either very short or within the gap between then wood and bark of the stump.

Not able to identify from my Collins guide but I did linger over the oysters and their allies but none seemed to fit.

Any suggestions?
Main navigation