Split oak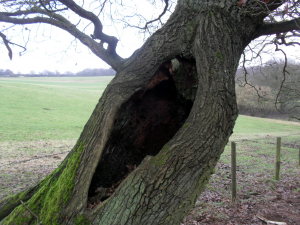 Observation - Split oak - UK and Ireland. Description: The trunk divides further up into three large branches, all living and producing foliage and acorns later in the year. About how old would a tree like this be and how long can it survive with this split? The tree stands in a rabbit warren. Would this l
The trunk divides further up into three large branches, all living and producing foliage and acorns later in the year.
About how old would a tree like this be and how long can it survive with this split?
The tree stands in a rabbit warren. Would this lessen the stability of the tree?
Main navigation