The happy couple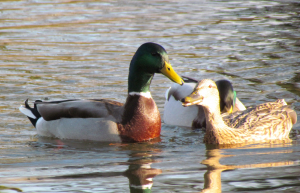 Observation - The happy couple - UK and Ireland. Description: The first photograph shows two male mallards in showing an interest in the female. The one on the left must have been more attractive as the second photograph show him mating with the female who he held under the water. When all was done the female popp
The first photograph shows two male mallards in showing an interest in the female.
The one on the left must have been more attractive as the second photograph show him mating with the female who he held under the water.
When all was done the female popped up and the third photograph shows the happy couple on their way to their next adventure.
Main navigation