Ladybirds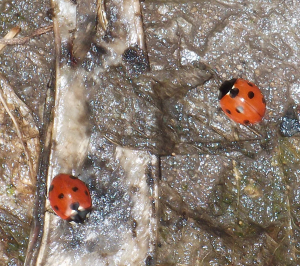 Observation - Ladybirds - UK and Ireland. Description: Harliquin ladybirds. I am quite convinced that i first observed these in the west midlands in about 1973 as a teenager. My main observation was that they were about twice the length of the normal kind i had seen many times. I have also noticed that the n
Harliquin ladybirds.
I am quite convinced that i first observed these in the west midlands in about 1973 as a teenager. My main observation was that they were about twice the length of the normal kind i had seen many times. I have also noticed that the native ones vary a lot more even sometimes having red spots on black wing covers. I have never seen this with these "big" ones. Also the number of spots appears to vary less or not at all.
Is there any other native ladybirds that could account for my 1970s observation or could they also be harliquins?
Main navigation