Green fungus on larch log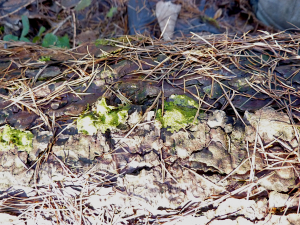 Observation - Green fungus on larch log - UK and Ireland. Description: photo 1 shows all specimens found. photo 2 shows a close up of the plant body 2.5cm long and 1cm wide. Photo 3 is taken down a microscope at 300x magnification. The specimen was gently teased apart. The photo shows hyphae 5 microns in diameter, a fila
photo 1 shows all specimens found.
photo 2 shows a close up of the plant body 2.5cm long and 1cm wide.
Photo 3 is taken down a microscope at 300x magnification. The specimen was gently teased apart. The photo shows hyphae 5 microns in diameter, a filamentous alga 12 microns in diameter and clusters of spherical algae each 5 microns in diameter. Is this a lichen? I can find no similar species. Other photographs can be supplied.
Main navigation