buck fallow deer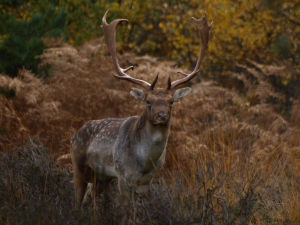 Observation - buck fallow deer - UK and Ireland. Description: I took this during the rut and found that I have photographed this animal last March and previous November - note the distinctive piece missing from his right ear tip. I had my camera trained at 90 degrees to him and he appeared through the trees to my r
I took this during the rut and found that I have photographed this animal last March and previous November - note the distinctive piece missing from his right ear tip.
I had my camera trained at 90 degrees to him and he appeared through the trees to my right - I had to very slowly turned the camera to him and managed to take several shots.
I couldn't help but feel he was stalking me!!
Main navigation