Scarlet Tiger caterpillar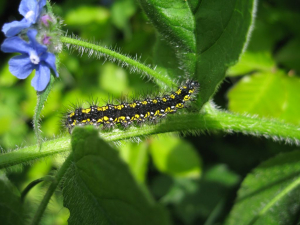 Observation - Scarlet Tiger caterpillar - UK and Ireland. Description: I was collecting my son Dominic from school this afternoon when he asked me What's this caterpillar? It's a question he asks fairly often, but this time he'd found a very interesting one - a Scarlet Tiger caterpillar, on flowers of Green Alkanet in the
I was collecting my son Dominic from school this afternoon when he asked me "What's this caterpillar?" It's a question he asks fairly often, but this time he'd found a very interesting one - a Scarlet Tiger caterpillar, on flowers of
Green Alkanet in the school drive at Great Kimble.

As far as I know there are few Scarlet
Tiger records in Bucks, and I don't think any from this part of the Chilterns.
Scarlet Tiger is a beautiful moth that is easy to rear, so there is a
possibility that this one has been released by someone. The alternative
explanation is that adult Scarlet Tigers were dispersing long distances into new
territory last year, which seems unlikely given the weather in 2008.
Main navigation