Cannibal (almost) Red Crested Pochard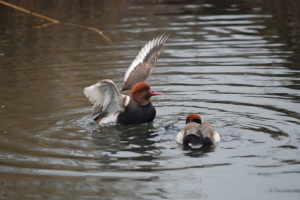 Observation - Cannibal (almost) Red Crested Pochard - UK and Ireland. Description: These birds are again from the LWC collection however the interesting thing was their behaviour. I first observed this group of two males and two females collectively pecking at what I assumed to be a patch of weed. However as they drifted closer I cam
These birds are again from the LWC collection however the interesting thing was their behaviour.

I first observed this group of two males and two females collectively pecking at what I assumed to be a patch of weed. However as they drifted closer I came to realise the 'weed' was instead the carcase of a coot – see inset – (LWC volunteer please note). Over the space of some time the birds almost completely plucked the coot. Unfortunately I didn't have time to stay and see if the pochards went on to consume the coot. Also I don't know how the coot came to be dead; was it killed by the pochards or where they scavenging?
This behaviour was witnessed by myself, another birder and later a LWC volunteer leading a group (some of whom were patently unaware of 'red in tooth and claw'). The volunteer confessed to having not seen this behaviour from this species before.
Main navigation