unidentified beautiful beast of a plant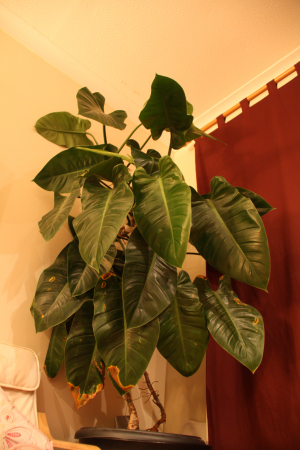 Observation - unidentified beautiful beast of a plant - UK and Ireland. Description: My father bought this plant for us some years ago from a garden centre. Since then (5 years or so) it has grown into this formidable specimen. It has always been indoors, always has been happy and fairly hardy. It thrives with water and feeding
My father bought this plant for us some years ago from a garden centre. Since then (5 years or so) it has grown into this formidable specimen.

It has always been indoors, always has been happy and fairly hardy.

It thrives with water and feeding, and 'bleeds' water from the very tips of the leaves after I've watered it.

I can't see how it is supposed to support its own weight (as you will see from the photo of the flimsy stems) and for years we have been supporting it with sticks, and only last night we have started suspending it from the ceiling with fishing wire!

Please help me identify it!
Main navigation