Large fast spider in Scotland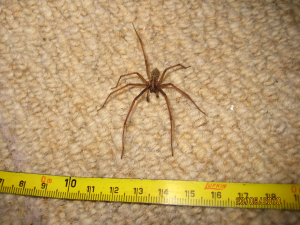 Observation - Large fast spider in Scotland - UK and Ireland. Description: My house is in the country in Argyll, Scotland. I have seen this spider in my home a few times. Although I am a Scot I don't recall ever seeing a spider like this in Scotland before, and I would like to know if it is a native species? As you can see fr
My house is in the country in Argyll, Scotland. I have seen this spider in my home a few times. Although I am a Scot I don't recall ever seeing a spider like this in Scotland before, and I would like to know if it is a native species?

As you can see from the photograph with the measuring tape it is quite a large spider, several cm across. Every time I have seen it it has been on the floor. Sometimes moving at great speed in a dimly lit room. It does not seem particularly agressive but it does give you a fright when you look down and see it right next to your bare toes. Rightly or wrongly I have the impression that this beast actively hunts it pray, rather than spinning webs.

I would like to know more about it, can anybody identify it?

Possibly we brought these spiders home to Scotland from a narrow boat we were on in England in Oct/2008. The second photograph show a spider on the boat, again it was big and very fast so may be the same type. We have also been on several earlier holidays to Morocco, but the narrow boat spider is too much of a coincidence.

These spider may occur in Scotland but they certainly are not common as their size and speed make them memorable.
Main navigation