Slime near a pond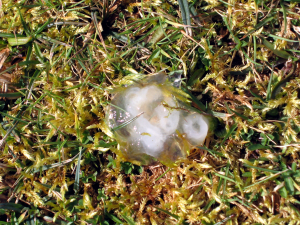 Observation - Slime near a pond - UK and Ireland. Description: This is one of several deposits found on short grassland around a large pond. The pond is clear, fed by a spring and water draining from surrounding fields and contains fish, frogs and the usual pond life. Geese are regular visitors, as are ducks but I
This is one of several deposits found on short grassland around a large pond.
The pond is clear, fed by a spring and water draining from surrounding fields and contains fish, frogs and the usual pond life. Geese are regular visitors, as are ducks but I have seen nothing that gives a clue as to what is leaving these deposits. They look like a sort of clear/white frog sporn but don't seem to change their character. They last for a week or so and then just vanish - maybe eaten by predators of some sort. This picture was taken in 2009 and the same deposits ocurred in 2010.
Can somebody identify what they are please?
Main navigation